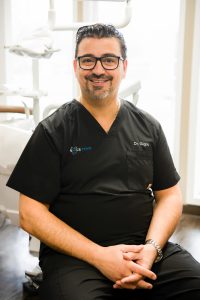 Dr. Giglio graduated from the University of Detroit Mercy School of Dentistry, where he earned his Doctor of Dental Surgery and was certified by the North East Regional Board of Examiners. He then pursued additional oral surgery training Yale university and has been honing his skills and practicing dentistry in Michigan ever since.
Dr. Giglio prides himself on his continual dental education, and he has received advanced training in cosmetic dentistry, dental implants, Invisalign® clear aligners, sleep apnea and TMD. He loves sharing his knowledge with others and has served as a board member at the Ferris State University School of Dental Hygiene and a dental assisting educator at Northwestern Michigan College of Traverse City. He is a certified professional educator with the Michigan Dental Association. At MI Smile Team, you can find him combining his extensive education, superior custom service and over 20 years of clinical experience in order to offer our patients the exceptional care they deserve.
Dr. Giglio, his wife, Gina, and their three children are excited to be a part of the Sterling Heights community, just as his family has served the Metro Detroit Area for over 85 years, offering some of the finest Italian American products the city had to offer at Giglio's Italian Market. Dr. Giglio's hobbies include spending time with his family, biking, hiking, volleyball, soccer and softball.
Professional Memberships: